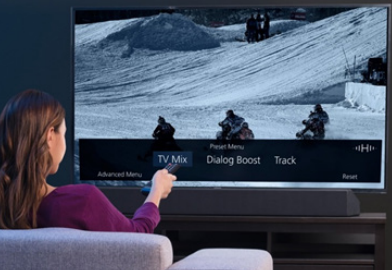 Fraunhofer USA Digital Media Technologies DMT promotes and supports the audio and media technologies of Fraunhofer IIS in the United States.
When it comes to advanced audio and video technologies for the rapidly evolving media world, the Fraunhofer Institute for Integrated Circuits IIS stands alone. Spanning from the creation of mp3, the co-development of AAC, and building the DCI test plan for the worldwide interchangeability of digital cinema movies, to designing the future of audio and video entertainment, Fraunhofer IIS' Audio and Media Technologies division has been an innovator in sound and vision for over 25 years.
Today, audio technologies such as Fraunhofer Cingo® for immersive VR audio, Fraunhofer Symphoria® for automotive 3D audio, AAC-ELD and EVS for telephone calls with CD-like audio quality, xHE-AAC for streaming and digital radio, and the MPEG-H TV Audio System, that allows television viewers to adjust dialogue volume to suit their personal preferences, are among the division's most compelling new developments.
In the field of moving picture technologies, latest achievements include easyDCP for the creation and playback of digital cinema packages and master formats, as well as Realception®, a tool for light-field data processing. In addition, Fraunhofer is developing new image coding systems based on JPEG2000 and JPEG XS.